24/5/2021, the 11th China International Energy Storage Conference (CIES 2021), hosted by the China Industrial Association of Power Sources (CIAPS) was held at the intercontinental Hotel Hangzhou. As benchmark enterprise in the domestic BMS industy, Xieneng Technology was invited to attend the conference. With the theme of "Adhering to the bottom line of energy storage safety and promoting industrial innovation and development", the conference invited more than 200 industry, academic and research institutions and upstream and downstream industry chain enterprises, more than 600 enterprises and more than 130 industry experts to discuss the opportunities and challenges of the energy storage industry.
At the "2021 Energy Storage Night" award ceremony on the evening of the 24th, Xieneng Technology was awarded the "Best BMS Supplier in China's Energy Storage Industry in 2021" by virtue of its good industry reputation and strong technical R&D strength.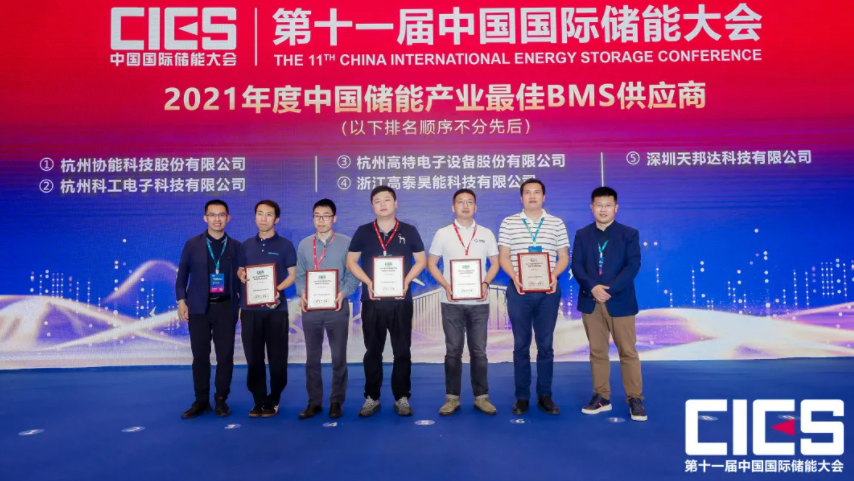 Xieneng Technology firmly believes that only through independent innovation can we contimue to improve our core competitiveness, so that we can start a new journey of building a modern socialist country and become the leader of the new energy wave. This award also makes Xieneng Technology more determined to let innovative products and market demand, is to achieve innovation-driven developemnt, climbing the peak of energy storage technology must go through.
Wilson Zhou, The General Manager of Xieneng Technology
In the context of the "Carbon Peak, Carbon Neutral" strategy, the new energy storage ushers in a promising strategic opportunity period, Xieneng Technology will continue to respond to the development trend of the times, product iteration and technological innovation in the field of energy storage, to make energy storage safer, more economical, better quality and more efficient.